A Joyful time with Madame Simona Wellington
Real Name: NOBODY KNOWS

Artistic Name: Ms Madame Simona Wellington

Occupation: Grand Chef and Waitress at the Dukka Caves Restaurant

Favorite Food: Lasagne

Music Preference: Folk and Gypsy Music, may enjoy Classical too.

Marital Status: WONT TELL

Hobbies: Cooking, Biala Mtn. Hiking, Lush Lake Fishing, Karaoke.

Personal Trademarks: Piercings and Tattoos.
Madame's Daily Life
It's 6:16 in the morning, and Madame Simona Wellington is already up and running making sure that most of her wonderful recipes are done by the time the restaurant opens at 8 o'clock. She has made sure that all the tables are set properly with the fork on the left, water, napkins; making sure that the restaurant leaves a good impression on new customers.
Madame Simona Wellington has been serving the kind customers of Dukka Caves and Marada for many years.
Ouch! Madame just smacked my hands! I just couldn't keep them away from the delicious Sugar Rolls, that Madame serves right next to every single one of her famous dishes! Imported right from the Maradan Bakery; Madame takes the Pirate's Ship, and personally buys them all the way in Candyland!

It's for this reason that Maradans could never live without Madame. It is her kind heart that has given her the love of all Dukkans and Maradans.



Madame's Restaurant and Food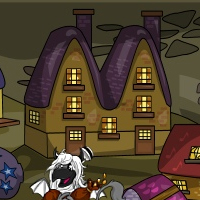 To those who don't know her yet, Madame Simona Wellington is the Grand Chef and Waitress at the Dukka Caves Restaurant located at #2 Dukka Caves Drive, Dukka Town, Marada. There she makes sure that everyone is so pleased with her service that they absolutely, definitely, MUST, MUST, MUST come back!
Whether you are in for Fish and Chips, or for Creamy Leek Soup or perhaps you have a sweet tooth for Ice Cream and Candy, you will always be pleased with Madame's recipes.
As you can see the restaurant couldn't look any better and she is very pleased with all she has put into it! With always something for everybody, who can complain? She was talking about all the years of hard labour that went into building what the Dukka Restaurant is today.
Madame Simona took a good look at the picture we took of the restaurant and said: "Pay no attention to that novice doofus standing in front of my restaurant. He says he is bringing more customers to my restaurant but I don't believe that"... Hmm...

Madame's Quotes

Well after a long interview with Madame she has opened up to telling us many things that we were hoping she would share with us. Madame told us she is extremely "paranoid" about losing customers to guys like the one she mentioned above. She shared her favorite quotes:

"Accept no imitations, there are lots of funny baloney chefs out there" and "I am super paranoid about losing business to a doofus like that one, I bet he's just stealing my customers!"




Madame's Personal Life

Madame has kindly communicated us that her personal life is none of anyone's business o_0
Why did we choose to interview her?

Because Madame is a remarkable Yakubi. Known in Marada and Dukka Town for many years for serving great food to everyone. When encountered by me and our reporters, Madame was delighted to be approached by our newspaper for an interview.

Now Madame has her own page here in our Maradan Chronicles: The most famous Marapets Newspaper in all the Internet. Since she's always been extremely generous, she would love to share her secrets with the world. She did however, asked us to do something in return and as we are very loving and generous too, agreed completely.

You scratch our backs, we scratch yours we say.  :) Click here to find out about the favor Madame asked us to do for her!
Footnote
The parodies in Marapetia were made for fun purposes and should not be taken literally. Images and names pertaining to pets or places in Marada all belong to Marapets.com (Ian and Laimay) and were used with permission.